Preventing Photo Damage
WHY SHOULD I ARCHIVE MY PHOTOS/DOCUMENTS?
Photos get damaged…
With our professional scanning and archiving equipment, your photos, slides, and negatives will be scanned and archived to CD or DVD. Your disk will contain high resolution digital copies that can later be used for e-mailing, enlarging and printing of your digital photos. The quality of your digital photos will not degrade as would physical photos.
Peace of Mind…
At your request, we will keep your photos on file, should anything ever happen to your originals or the CD/DVD we made for you. We offer this service at no extra charge, because we value You, and the memories that your pictures hold.
Convenience…
You will be able to view your pictures on your computer, TV or DVD player and you will be able to print as many high quality reproductions as you wish.
More than 2,500 photos can be stored on a DVD and can be organized into categories.
First 100 ———–$1.00 each
101-200————$.90 each
201-300————$.80 each
301-500————$.70 each
501+—————$.55 each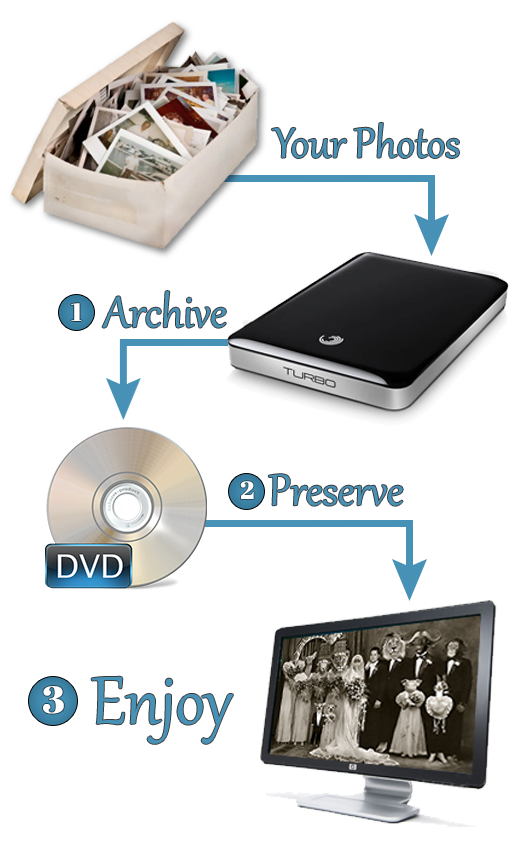 Archive your photos/documents. They will last for generations to come!
Before A Disaster Occurs
When storing your prints, be sure to keep them out of direct sunlight and humid rooms, such as basements or bathrooms, and away from intense heat. Cool, dry, and dark are the ideal conditions for long-term photo storage.
Prints stored in an album last longer than those in frames, but avoid albums with self-stick, "magnetic" pages and PVC plastic overlays. These albums cause rapid fading and discoloration. Instead, look for albums that are acid- and lignin-free. These chemicals can yellow and damage pictures.
If you want to display your photos, put them in frames under glass, preferably with an anti-UV coating. Aluminum frames are ideal, as they are lightweight and are not affected by humidity. Also be sure to put an acid-free mat between the frame and the photo to prevent your prints from sticking to the glass over time.
We all have piles of photographs lying around in drawers, boxes, where ever. You're not alone! Wouldn't it be awful to find the hot water heater had leaked, or rain water settled in your storage boxes or mold from the basement attacked your family's history? That would be a disaster. Prevention is the first answer.
The best way to make sure the photos don't stick to each other is to find a way to store the them so they don't lie around in a pile touching each other. Try one of the following two suggestions:
Buy three hole punch archival plastic pages for storage of the photos and negatives and then, once filled, put your pages in any school notebook with a plastic cover (colored cloth covers could bleed colors on your photos if gotten wet).
Use an archival "shoe box" type approach with archival separating papers (interleaving sheets). I guess it depends on your personality which one you choose… they both work.
The correct plastic used for the pages should be polyester, polypropylene or polyethylene. Besides being good for photos, these materials won't transfer the wording off of your photocopies onto the plastic. Bad materials to be avoided are vinyl, polyvinylchloride (PVC) or anything that smells weird or strong.
The offgassing vapors will ruin the colors of new photos and accelerate the aging of old ones.
As an alternative to using the plastic page protectors, we have also found and used already-made photo albums from large warehouse type store. The album's are advertised as having pages made of acid free materials and photo-safe plastics (no PVC). Providing you can believe what they tell you, these albums are probably OK to use. If you would like to be really sure, check the album for the company's #800 phone number and ask them to confirm that everything is on the up and up. I have bought them every once in awhile at the large warehouses like Price/Costco. Inquire around. You may be able to get them at stores like Walmart.
Don't use the magnetic page photo albums either. The plastic on the front is always bad and the stick em' on the back will eventually hold the photo so tight that you won't be able to get them out safely. We've seen people rip their photos trying to get them out of old magnetic albums. The pages also yellow badly and look bad. The appeal of the "magic page" is short lived.
If you have large historical photos or some of odd sizes (like the 10″ x 48″ panorama photos) you will need to buy a special "holder" just for that item. Consider some of the archival boxes or specialty envelopes and enclosures, or look through the plastic container section of your supermarket. These containers are made of polyethylene or polypropylene (acceptable archival materials).
By taking these simple steps to separate and safeguard your photos (which could be done while watching TV), you will have made sure that they will not stick together if the weather gets hot and humid or if the photos get wet. Cardboard boxes and the like not only soak up water but the cardboard itself will bleed off impurities when wet and the yellowing will be carried by the water to stain everything thing else around.
You will have also protected them from getting fingerprints, bent edges and they won't get scratched up (like the ones in your drawers). These efforts will help you to feel much better about their preservation.
We have been featured on CNN, Fox, ABC, New York Times etc…